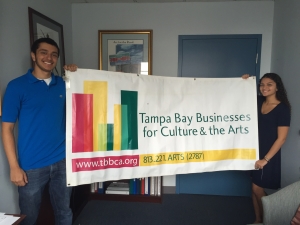 TBBCA seeks motivated college and high school students looking for practical experience in the nonprofit arts sector. TBBCA interns assist the Executive Director with special events, fundraising, marketing & PR and general office administration. Opportunities for graphic design internships are also available. Applicants are asked to commit to approximately 10 hours per week for the duration of one semester. Applications are accepted on an ongoing basis. It is recommended you apply before the start of the semester.
For students interested in receiving college credit, the TBBCA is happy to assist with any necessary paperwork or requirements. Internships are unpaid.
To apply, please email your resume and cover letter to susanaweymouth@tbbca.org. Please be sure to write TBBCA Internship in the subject field. Applicants interested in a graphic design internship may also include attachments or a website link to current work samples.
Working as an intern at the TBBCA has been a valuable experience. Instead of being limited to the minor tasks that are typically associated with internships, I was given the opportunity to take on more responsibility and work one-on-one with the executive director on a daily basis. I learned a lot about working in the non-profit sector and gained important marketing, communication, and leadership skills. If you are looking for an opportunity to really be involved at your internship in addition to boosting your resume and creating portfolio quality work, I would absolutely recommend interning for the TBBCA.
The connections that I made because of the TBBCA helped me to secure a full time job after graduation. I gained experienced in many areas from event planning to marketing and feel as though the internship helped me become a more marketable person.
My internship at TBBCA helped me realize the importance of culture and the arts in terms of their huge impact on our community and economy. I appreciate that TBBCA recognizes and supports students through the Charlie Hounchell Art Stars Scholarships. As a flautist at Howard W. Blake High School of the Arts, interning with TBBCA inspired me to continue my studies and pursue higher education in music.
My internship with TBBCA was an excellent opportunity to learn about working for a non-profit organization in a professional environment. I gained a deeper understanding of techniques in research, marketing and communication skills. I was introduced to the importance of businesses supporting arts in our community. I felt truly inspired to continue to pursue my career in the arts and sciences.