TBBCA 2017 IMPACT Awards honored business and community leaders for their extraordinary contributions to culture and the arts.
For information on Tampa Bay BCA pARTnerships, sponsorships and events throughout the year contact TBBCA Executive Director susanaweymouth@tbbca.org or (813) 221-2787.
2017 Impact Awards Honorees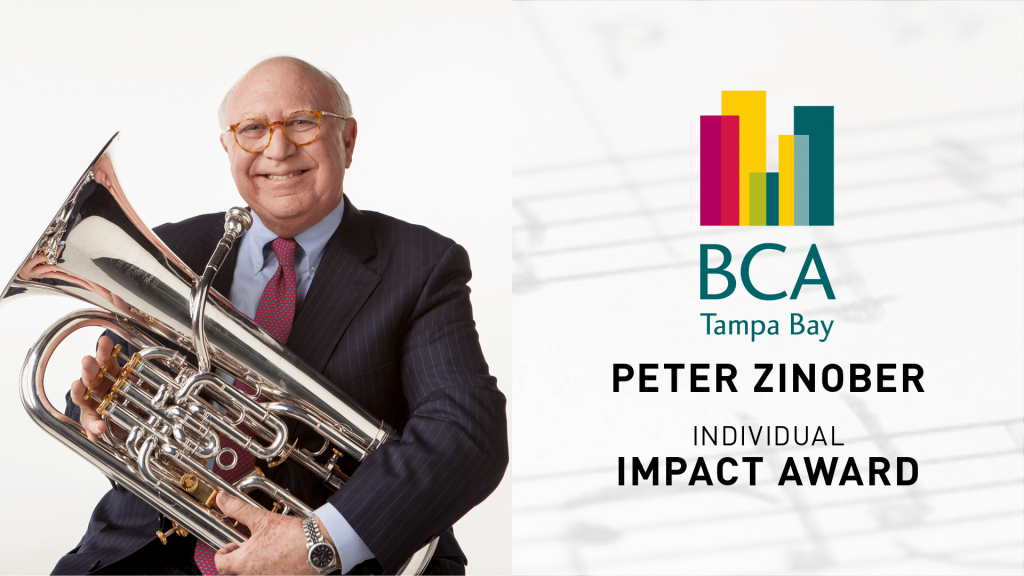 Peter Zinober
Peter Zinober is Shareholder, and Board Certified Labor and Employment Lawyer with Greenberg Traurig, a law firm of approximately 2000 lawyers in 38 locations around the globe.
Zinober began his musical career studying trumpet in 6th grade. In the summers, he continued his studies in trumpet, music theory and conducting at Florida State University Music Camp. While a student at Boca Ciega High School, he was featured trumpet soloist, named to Florida All-State Band, and selected as First Chair. In his senior year, he switched to the baritone horn, while continuing to compete in solo competitions on the trumpet. His love of baroque woodwind music inspired him also to learn to play soprano, alto and tenor recorders. Pete studied at the University of Florida for nine years, for undergraduate, graduate and law school. As a freshman undergrad, he was selected as First Chair Euphonium, a position he occupied through graduation from law school at the end of March 1969. While at UF, Peter was soloist on tour with the Symphonic Band, performed with the University of Florida Symphony Orchestra on French horn, with the University of Florida brass ensemble on trumpet, and at local churches on the recorder. Peter was a member of Phi Mu Alpha Sinfonia, the music honorary fraternity, Kappa Kappa Psi, the honorary band fraternity, and Florida Blue Key, selected to the University of Florida Hall of Fame, and later appointed to chair the first University of Florida Fine Arts Festival in 1968.
Peter Zinober's early law career began as attorney with the United States Department of Labor and the National Labor Relations Board in Washington, D.C., where he still made time for the arts, subscribing to the masterworks concert series of the National Symphony Orchestra. He returned to Tampa with the NLRB in early 1972. He soon engaged in the community, joining the Greater Tampa Chamber of Commerce, and the Cultural Affairs Council, which he chaired for two years. In 1977, the Secretary of State appointed him to a key position, as the Hillsborough County Member of the Florida Arts Council, where his service included as Vice Chairman, and Chair of the music grants and other panels. Peter was then invited to join the Board of Directors of the Florida Gulf Coast Symphony, which later became the Florida Orchestra. Shortly after he joined the Board, the musicians union requested collective bargaining negotiations with the Orchestra, and Peter was asked to be Labor Counsel and General Counsel of the Orchestra. Between 1973 and 1986, Peter worked with several Executive Directors to negotiate every collective bargaining agreement with the Musicians Union which was signed in those years. He also served on the Board of Governors of the Orchestra, including as Chairman from 1981 to 1983. During his tenure, the Hillsborough County Youth Orchestra was formed and the Florida Orchestra developed a nationally recognized music-in-the-schools program. In the past 15 years, Peter was invited to return to orchestra leadership, serving on the Emeritus Council Steering Committee, and advising the Board negotiating committee and Executive Director in negotiations with the Musicians Union. Pete never abandoned his passion for musical performance, and in the late 1990s, he was recruited to join the Tampa Community Band as a euphonium player.  He has performed with the band as its principal euphonium player since that time.  The band, comprised of forty- five amateur musicians, performs a varied repertoire in a number of venues throughout Hillsborough County at no charge to the attendees.
TBBCA is honoring Zinober for his exemplary leadership in support of Tampa Bay arts & cultural organizations for over four decades. He served several terms on the City of Tampa Mayor's Public Art Committee, chaired a joint City/County Task Force on the Future of the Arts in Hillsborough County, and was appointed by the County Commission as a member of the Hillsborough County Arts Council, which he went on to Chair, as well as serving as the Arts Council designated board member for The Straz Center for the Performing Arts. He was the driving force behind the creation and execution of the first Tampa Bay Regional Arts Summit in 2013. Peter was also on the Board of Directors of the Tampa Players Theater, honorary board member of Stageworks Theatre, and board member and Treasurer of the Florida Cultural Action and Education Alliance. Peter has served as longtime TBBCA member, officer, Board Director and Past President. As TBBCA Board Director he is currently spearheading a number of new TBBCA initiatives and programs. Peter Zinober and Greenberg Traurig are TBBCA Chair's Circle pARTners and strong supporters of arts and culture.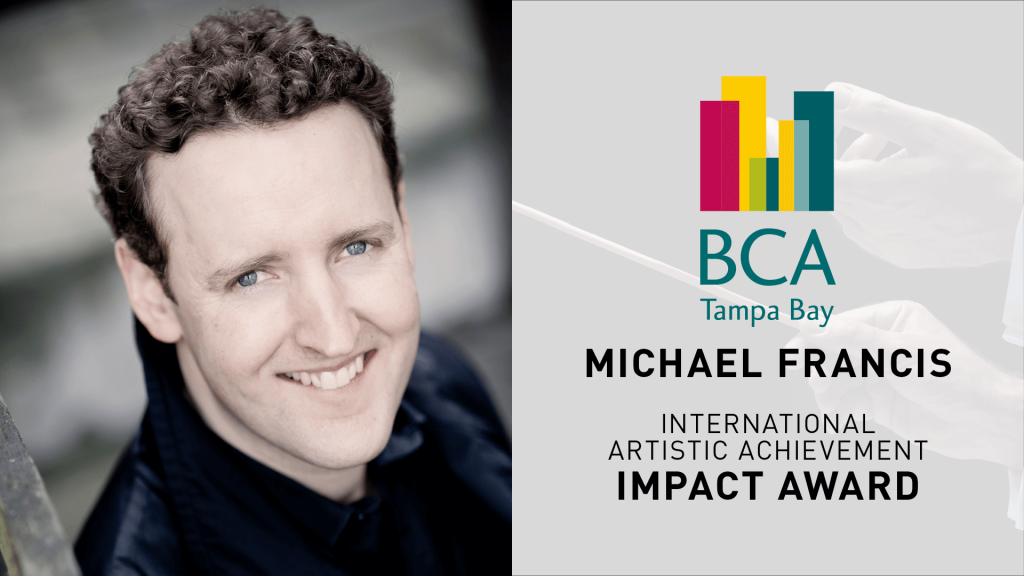 Michael Francis
Michael Francis is an internationally recognized conductor. With a contract recently extended to 2021, Francis is entering his third season as music director of The Florida Orchestra, recognized as Tampa Bay's leading performing arts institution, the largest professional symphony orchestra in Florida, and one of the most vibrant and innovative orchestras in America.  The Florida Orchestra celebrates its milestone 50th anniversary of bridging the bay with music — which fittingly started with an agreement signed on a boat in the middle of Tampa Bay in a merger of the Tampa Philharmonic and the St. Petersburg Symphony. The Florida Orchestra still is the only performing arts organization that unites the bay area, with over 130 performances annually in Tampa, St. Petersburg and Clearwater. Under Francis' direction, The Florida Orchestra has increased engagement with the Tampa Bay community and throughout the State of Florida, including bringing The Florida Orchestra to malls and hospitals, engaging with youth, schools and universities, offering free programming, and performing in communities without access to a resident orchestra – all while vigorously carrying out the vision "to make the arts central to a higher quality of life and to truly inspire, entertain, and educate a wide and diverse audience."
After several years as a tenured double-bass player in the London Symphony Orchestra (LSO), Michael Francis came to prominence as a conductor in January 2007, replacing an indisposed Valery Gergiev for concerts with the LSO during the BBC's Gubaidulina festival at the Barbican Centre. Just one month later, Francis was asked, this time with only two hours' notice, to replace the composer/conductor John Adams in a performance of his own works with the LSO at the Philharmonie Luxembourg, and soon after in January 2009, he replaced André Previn leading a German tour of the Stuttgart Radio Symphony.
Known for maintaining a diverse repertoire while paying particular homage to the composers of his native Britain, Francis enjoys a great reception throughout North America, Europe and Asia. Francis' guest appearances span the globe, including the Cleveland Orchestra, New York Philharmonic, Deutsche Radio Philharmonie Saarbrücken, Komische Oper Berlin, Dresden Philharmonic, Royal Philharmonic, BBC Philharmonic, London Symphony, BBC Scottish Symphony, Orquesta Sinfónica de RTVE Madrid, Helsinki Philharmonic, RTÉ National Symphony of Dublin, Ulster Orchestra, and the symphonies of Atlanta, Toronto, Cincinnati, Indianapolis, and Pittsburgh, among many others. Recently chief conductor and artistic advisor of the Norrköping Symphony Orchestra,  Francis is also music director of the Mainly Mozart Festival in San Diego, where he has launched an ambitious multi-year exploration of Mozart's life. In Asia, he has conducted the NHK Symphony and the Malaysia and Seoul philharmonics. Soloists that he works with include Lang Lang, Arcadi Volodos, Christian Tetzlaff, Anne-Sophie Mutter, Vadim Gluzman, Nicola Benedetti, Baiba Skride, Jamie Barton, Alisa Weilerstein, Truls Mørk, Håkan Hardenberger, Daniel Müller-Schott, Miloš and Rufus Wainwright. Working with young musicians has always been a priority for Maestro Francis. He has made a six-city Canadian tour with the National Youth Orchestra of Canada, frequent visits to Miami's New World Symphony and performed with the National Youth Orchestra of Scotland. Francis' discography includes the Rachmaninoff piano concertos with Valentina Lisitsa and the London Symphony Orchestra, Wolfgang Rihm's Lichtes Spiel with Anne-Sophie Mutter and the New York Philharmonic, and the Ravel and Gershwin piano concertos with Ian Parker.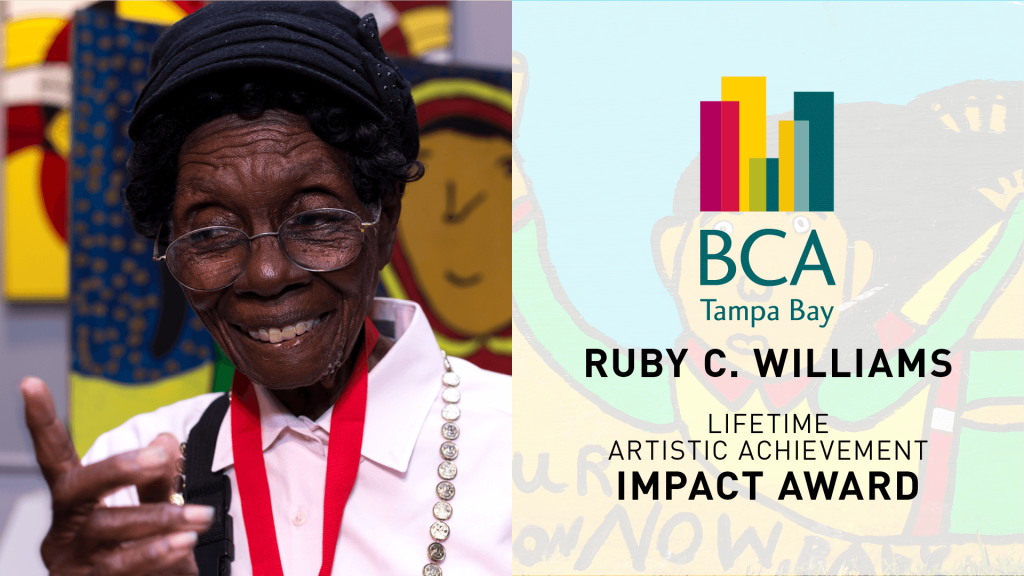 Ruby C. Williams
Ruby C. Williams is a nationally recognized self-taught folk artist. She was born and raised during the Depression, in the historic African American town of Bealsville, Florida, founded in 1865 by freed slaves, including Williams' great-grandmother. After moving to New Jersey in the 1960s, she drove a bus, became a minister, and founded a church. In 1967, she was working as an evangelical minister with the Community Baptist Church of Love and its founder Frederick LaGarde, Sr. — a civil rights leader and friend to Martin Luther King, Jr. — in New Jersey when her husband, also a minister, left her and their children. Ms.Williams then began a secret habit: making paintings which she kept quiet while continuing to minister to at-risk youth.
Ruby C.Williams returned to Bealsville in the 1980s to farm. To make her small farm successful she opened a self-built produce stand on State Road 60, and painted brightly colored signs to attract visitors. Her paintings have led her into classrooms, galleries and museums in Florida, and beyond.  Williams has said: "My life is to look up and reach up and take somebody with me no matter what, make someone else happy. I think that's what the art does." Ruby Williams' work is found in collections throughout the U.S., and internationally. Her artwork has been featured in books and exhibitions, including the Polk Museum of Art, Lakeland, and the American Visionary Art Museum, Baltimore. In 2005, the Smithsonian (Anacostia) Museum in Washington D.C., "On Their Own – Selected Self-taught Artists" exhibited ten of Williams' paintings, and selected her artwork for the cover of the catalog, banners and promotional materials. In 2013, HCC's Gallery 221 celebrated the work of Ruby C. Williams as a Florida folk art legend with a solo exhibition organized by curator Katherine Gibson. Ms. Williams' awards include the 2005 Department of State Division of Historical Resources Preservation  Florida Folk Heritage Award and the 2009 Folk Art Society of America Award of Distinction. Ms. Williams has also illustrated a children's book, I Am Ruby.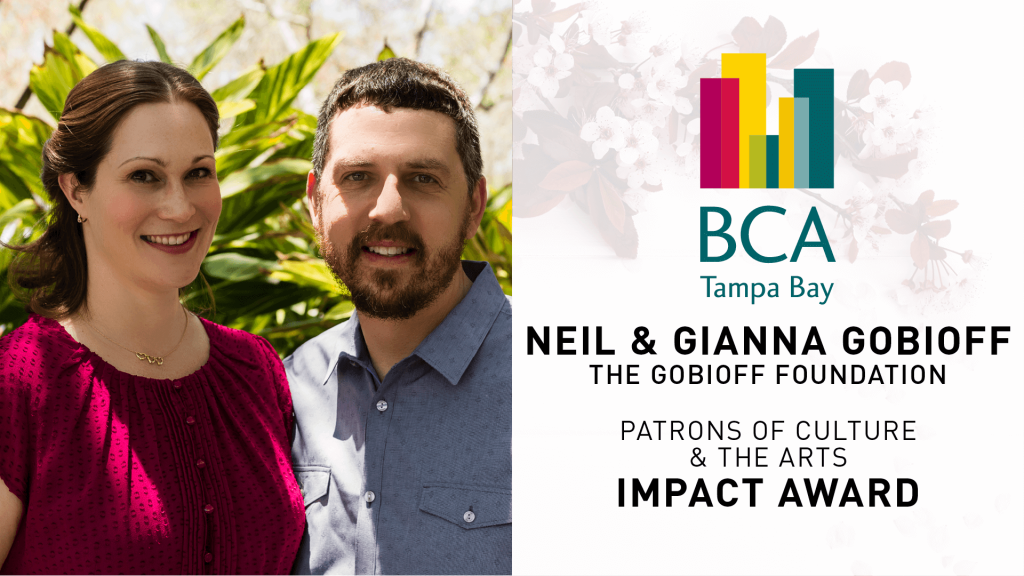 Neil Gobioff and Gianna Rendina-Gobioff
Neil Gobioff and Gianna Rendina-Gobioff lead The Gobioff Foundation, a private family foundation established by Neil's brother Howard Gobioff, in 2007, only months before his sudden death from lymphoma in March, 2008. The Gobioff Foundation carries out the intention of its founder, "to make the world a better place," through grants, programs and initiatives. The Foundation's arts grants in the Tampa Bay area have focused on small organizations or specific programs within larger organizations.  Although the Foundation has a relationship with many arts organizations within Hillsborough and Pinellas Counties, two organizations that have received a greater amount of attention and funding from the Foundation include Jobsite Theater and Tempus Projects. The micro-grants program run by Hampton Arts, which was predominantly funded by the Gobioff Foundation (2011- 2014), resulted in nearly 50 projects in music, performance, film, digital and visual arts. The Gobioff Foundation has begun the process to bring this program back as an internal program and hopes to launch it again in 2018. Recently, the Gobioff Foundation adventured into creating and managing a competitive grant program.  The Treasure Tampa initiative was launched in the Fall of 2016 and through education, collaboration, and funding strives to facilitate creative place-making in Tampa.  The first Treasure Tampa grant was awarded in February of 2017 to the University Area Community Development Corporation for a public art and creative place-making project.  In 2017-2018 the Treasure Tampa initiative will continue to inspire and support creative place-making through grants and presentations. Ultimately the Gobioff Foundation believes in the diverse artistic talent that resides within the Tampa area and strives to bring it to the public spotlight, as well as creating artistic opportunities that encourage artists to proudly call Tampa home. The other primary grant focus of the Gobioff Foundation is to support human rights organizations. These grants have had a national and global impact through support of organizations like Doctors Without Borders, Center for Constitutional Rights, and the Electronic Frontier Foundation.
Neil Gobioff served on the board of Jobsite Theater from 2014-2017, and was on the planning committee for the Florida Philanthropic Network's annual Summit in 2017.  Gianna Rendina-Gobioff served on the board of Tempus Projects (2012 – 2015) and as President (2012) of the Preschool Parent Association of the Amy Gail Buchman Preschool and Child Development Center, and supported fundraising efforts for Jobsite Theater and The Spring of Tampa Bay.
2017 Impact Awards Sponsors
TBBCA is a 501 (c) (3) FIN # 592948216  #CH32681
"A COPY OF THE OFFICIAL REGISTRATION AND FINANCIAL INFORMATION MAY BE OBTAINED FROM THE DIVISION OF CONSUMER SERVICES BY CALLING TOLL-FREE (800-435-7352) WITHIN THE STATE. REGISTRATION DOES NOT IMPLY ENDORSEMENT, APPROVAL, OR RECOMMENDATION BY THE STATE." OR VISIT www.FloridaConsumerHelp.com